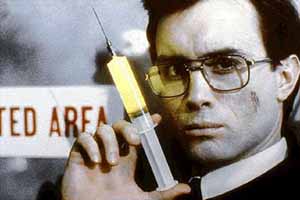 So you thought the Millennium Edition of Re-Animator was the be-all end-all collector's disc? Wrong!
Once again Anchor Bay is proving why they're still the best with the announcement of a brand new edition of not only Stuart Gordon's classic splatter fest, due out March 20th, but also Phantasm and Phantasm III: Lord of the Dead, both hitting on April 10th.
Fangoria got the scoop that the Re-Animator disc will include a new commentary with Stuart Gordon solo and another with producer Brian Yuzna and stars Bruce Abbott, Jeffrey Combs, Barbara Crampton, and Robert Sampson. All the features from Elite's release will be included as well as a few new surprises.
On the Masters of Horror front, the Bay will release Carpenter's "Pro-Life" (review) on March 20th and Landis' "Family" (review) on April 17th following the February 6th release of Argento's "Pelts," which we first told you about here.
More info on all these discs and a lot more is on the way, so stay tuned!
Got news? Click here to submit it!
Wish you could just … stop …. spending in our forums!
Comments