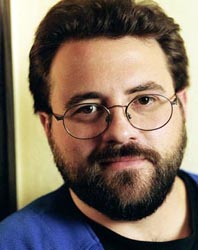 Though it was announced, and we showed you the video of the man himself saying it here, we were all still a bit wary as to whether or not Kevin Smith was serious when he said he'd be doing a horror movie next to the crowd at Wizard World Chicago. It seems that, for once, are fears were unfounded.
"It'll be pretty different from anything else I've done thus far – that much I can tell you," Smith posted on his site about the flick. "There may be a few chuckles in it along the way, but it won't be comedy-horror. It'll be chills and gore."
Check out the full semi-official confirmation over at Kevin's official site, which will likely be the best place to keep your eyeballs glued to for any and all updates on the project, though we're going to do our damndest to stay on top of it. Smith said he doesn't plan on seeing the film released for about two more years, so we've got lots of time to dig!
And since we're talking horror, click here to check out Kevin Smith on IFC's "Henry Rollins Show". Not that it's a bad interview, but Rollins appears in Wrong Turn 2 you see, so there's the connection. Don't question it; just click.
Got news? Click here to submit it!
Theorize what this will be like in our forums!
Paramount's Dating App Thriller Snags The Boy Next Door Screenwriter
Are dating apps scary? Paramount sure hopes that's the case as they have just hired screenwriter Barbara Curry (Blumhouse's The Boy Next Door) to pen the upcoming "dramatic investigative thriller" Gasp.
Hiring Curry for this film makes a ton of sense being that before Curry was the screenwriter behind "dramatic investigative thrillers" she worked as a prosecutor in the U.S. Attorney's office for ten years. Qualifications galore.
Deadline reports that Gasp is centered around a female detective investigating a killer who is targeting women via a dating app. Nice. Not only is that a super-timely and creepy plot for a flick, but the film is supposedly based on several true stories.
Heaven help us. I knew it. Stay away from those. Male or female. Nope. Nope. Nope.
Now while I've never had a bad experience (re: stalker) from a dating app that makes sense considering I never use them. Ever. I prefer the old-school method of sitting in my room alone typing horror news articles and letting the ladies come to me.
12% of the time, it works every time.
The film is based on a pitch by Mario Celaya and produced by Jennifer Gibgot and Adam Shankman. Jessica Sharzer ("American Horror Story") is co-producing.
We'll let you know when we hear more!
Synopsis:
A female detective goes undercover online to catch a killer who is murdering women he meets on a specific popular app. But when she starts to fall for one of the suspects who has been cleared, she discovers he may, in fact, be the killer.
Alien: Covenant's Carmen Ejogo Joins True Detective Season 3
"From the dusty mesa her looming shadow grows…"
The first season of HBO's "True Detective" was one of the best seasons ever put on a TV screen. Hands down. The second season was another story altogether. While not a complete waste of time (Colin Farrell owed) the season was basically merely 'meh'.
But what about "True Detective" season 3?
Well, a few months back it was announced that the third season had been greenlit by HBO, with creator Nic Pizzolatto returning to pen the series and director Jeremy Saulnier (Green Room) taking the helm of the episodes.
Today we have news that Carmen Ejogo – who you may recognize Ejogo from such recent fright flicks as It Comes at Night, Alien: Covenant, and The Purge: Anarchy – will be joining the previously announced Mahershala Ali (Moonlight) for Season 3.
Ejogo will play the female lead, Amelia Reardon, who THR describes as "an Arkansas schoolteacher with a connection to two missing children in 1980."
Nice Pizzolatto will serve as showrunner and direct alongside Jeremy Saulnier. Executive producers include Pizzolatto, Saulnier, Scott Stephens and season one stars Woody Harrelson and Matthew McConaughey as well as original director Cary Joji Fukunaga. Steve Golin, Bard Dorros and Richard Brown are also credited as exec producers.
Synopsis:
A macabre crime in the heart of the Ozarks and a mystery that deepens over decades and plays out in three separate time periods.
Danielle Harris Tried to Get Jamie Lloyd into New Halloween Movie
One of the top films all of us are looking forward to the most here at Dread Central is Blumhouse's upcoming sequel/reboot thing to John Carpenter's Halloween.
The new Halloween (2018) film is written by Danny McBride and David Gordon Green and is all set to be directed by Green this year. Recently we learned that original Halloween star Jamie Lee Curtis was going to be returning to the new film.
Not only that, but Curtis' classic character Laurie Strode would have a daughter… played by Judy Greer. But what about Danielle Harris?
After all, Harris was the star of Halloween 4: The Return of Michael Myers and Halloween 5: The Curse of Michael Myers. Let alone, she had a starring role in both Rob Zombie's remake and it's sequel. So how about the new film?
Turns out Harris tried to get her character Jamie Llyod (aka the daughter of Jamie Lee Curtis' Laurie Strode) from Halloween 4 and 5 into the new film… but she was turned down by Blumhouse and the new creative team. That sucks.
Harris was pretty bummed about the whole deal and took to Facebook recently to clear the air. You can check out quotes from her video, along with the video itself, below.
After that make sure to hit us up and let us know how much you would have liked to see Harris return to Halloween in the comments below or on social media!
"What I am bummed about is… [Laurie] has a daughter," Harris says. "I was okay with it when she had a son… but they're saying it's the last one and… she has a daughter. And it's not Jamie. It's just kind of a bummer, I guess. I think somebody had said, it wouldn't have hurt the movie to have Jamie reunited with [Laurie]. But that didn't happen."
"We did put in a call, thought it'd be kinda cool even just to have a little flashback…" She continues. "They were not interested. So. I tried."
Blumhouse's Halloween hits theaters October 19, 2018.
halloween and germany

Posted by Danielle Harris on Monday, November 6, 2017