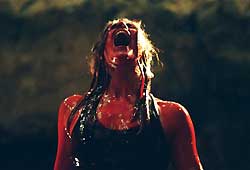 Well, we know nothing about it save that it's being handled by the same production house, but apparently something is happening for the sequel to Neil Marshall's badass horror film The Descent.
STYD noticed a listing on IMDB for De2cent which, if that is the title they're going with, is already a bad sign for their intentions with the movie. And damnit, I still want to know which ending they're going to go from: the UK or the US one?
Marshall isn't exactly involved with it, unfortunately, but hopefully he'll at least get a chance to read through whatever script they end up using. The production year is listed as 2009 as well, so don't expect anything too soon about this one…
Got news? Click here to submit it!
Discuss sequelizing the monsters in our forums!
Want free stuff? Bring us new blood!